You want to give your dog the best, highest quality food possible – but who can you trust to provide exactly what your dog needs?
Unfortunately, you can't trust your dog. Just because he gobbles down a meal with enthusiasm doesn't mean the food is healthy or nutritious. (Just think about last time you fed him that leftover slice of pepperoni pizza … probably not a superior choice when it comes to nutrition.)
Also, you can't trust marketing. Every brand claims they have a wholesome, unique formula that is superior to the competition.
Instead, you want to trust the manufacturer. Who makes your dog's food? What expertise do they bring to the table?
If you Google which dog food brand you should go for, you'll find more options than you can count. Every manufacturer claims to be the best in the business, using healthy ingredients and natural sources for their food. However, you can't always trust what brands say about their own products. 
You need a reliable source of information that's based on solid information and takes both the pros and cons of every product into consideration. Thankfully, we're here to provide you with that information. In this buying guide, we'll be going over the products of 4Health Dog Food, a leader in the dog food industry.
For over 70 years, dog owners have trusted 4Health Dog Food from the Tractor Supply Company, an established company that provides pet feed and supplies along with a variety of other products such as farming supplies and clothing.
The brand isn't very well-known among many households, however, especially those in suburban and urban areas. But 4Health Dog Food has a lot to offer dogs of practically any breed in every stage of life, whether you're feeding a young puppy or a fully grown dog. Read on for our complete, unbiased review of 4Health Dog Food by Tractor Supply Co.
4health Salmon & Potato Formula Adult Dog Food 5 lb
4health Tractor Supply Company Grain Free Puppy Formula Dog Food, Dry,...
4health, Tractor Supply Company, Special Care Sensitive Skin Formula...
4health Tractor Supply Company, Small Bites Formula, Adult Dog Food,...
4health Tractor Supply Company, Small Breed Formula with Beef, Grain...
4health Salmon & Potato Formula Adult Dog Food 5 lb
4health Tractor Supply Company Grain Free Puppy Formula Dog Food, Dry,...
4health, Tractor Supply Company, Special Care Sensitive Skin Formula...
4health Tractor Supply Company, Small Bites Formula, Adult Dog Food,...
4health Tractor Supply Company, Small Breed Formula with Beef, Grain...
Last update on 2023-09-18 / Affiliate links / Images from Amazon Product Advertising API
Things to Consider Before Buying Dog Food
Do you feel hopelessly lost when reading the labels on a bag of dog food? What's a by-product or a meal? What do all those percentages mean … and are they an important factor in choosing the best dog food?
Fortunately, it's okay not to understand much. What you should keep in mind, though, is that the more confusing the ingredients, the less likely the food is nutritious and healthy.
In other words, the healthiest dog food has the simplest ingredients. The first ingredient listed should be a lean protein made from real meat. The next few ingredients should be fresh vegetables such as potatoes or carrots. Avoid foods with lots of grains like corn and wheat as they are simply fillers that can irritate a dog's digestive system.
Most high-end dog foods will have fairly similar ingredients, at least on paper. What makes one brand different from the other is the quality of those ingredients.
Think of it this way: When you go to the grocery store, you can find low-quality frozen chicken at a low cost. But you can also buy farm-fresh chicken raised without antibiotics, hormones, or other additives. It's all chicken, but the difference in taste (and nutrition!) can be substantial.
The ingredients in dog food are the same. The best food will have the freshest, most wholesome meats and vegetables sourced from trusted suppliers.
Before buying dog food, consider the following:
Are the ingredients sourced from a local supplier?
Are the ingredients certified as organic?
Does the manufacturer understand the nutritional needs of dogs?
Do they make a variety of different foods for different stages of a dog's life?
4Health Dog Food from the Tractor Supply Company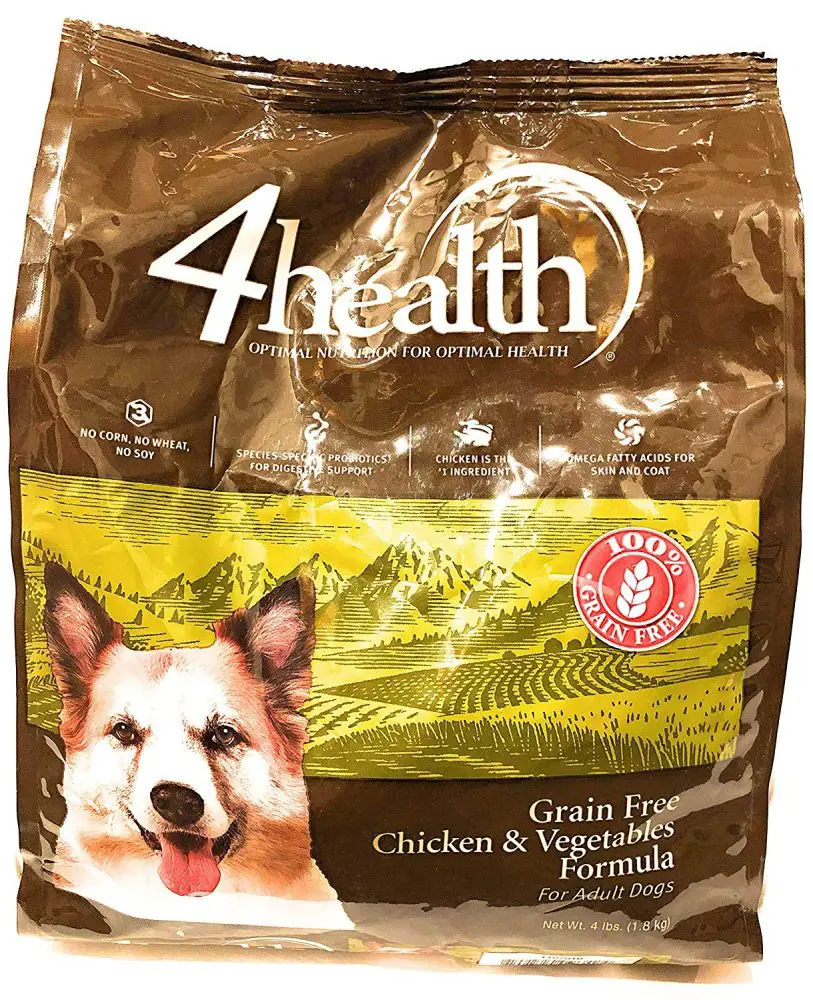 4Health has a bit of a different pedigree, you might say, than other dog food manufacturers. They're a Tennessee-based farm supply and rural lifestyle company. And they're not small, either. They operate the largest chain of rural retail stores in the country, with 1,700 stores in 49 states (along with a robust online sales operation).
You can find basically anything needed for life on the farm. As briefly mentioned earlier, they sell farm equipment, clothing, tools, feed … and, yes, pet supplies.
At first, we were a bit hesitant at the prospect of buying dog food from such a large company. Could they specialize in dog food while they also have so many other products on their plate? But after some research, we found they offer compelling reasons to believe they know what they're doing.
First, they're experts in animal nutrition. After all, they've been making feed for farm animals since 1938. They understand that all species are different, and unique food must be formulated for every animal's specific needs.
Their dog food, in particular, contains lean meat protein to provide dogs with vital amino acids and other nutrients.
Also, they understand the importance of sourcing. They're farming experts, so they know what to look for when selecting partners. All meats and vegetables are raised and grown in safe, wholesome environments to maximize freshness and quality.
Pros & Cons
Pros
Pros
Farming experts who source fresh, wholesome ingredients.
All formulas carefully balanced for a dog's complete nutrition needs.
Farmers and ranchers have trusted the brand since 1938.
Cons
Cons
Only four varieties of dog food available.
No brand variety specifically made for small dogs.
Minimal wet food options.
Features & Benefits
Now that we've covered a brief overview of 4Health Dog Food, let's go into a more in-depth review of this dog food brand.
Special Formula for Older Dogs
A dog's nutritional needs change with age. Dogs decrease their activity levels as they get older. If a dog isn't very active, he will start to need food with less protein. Otherwise, he'll gain weight, because he's not burning as many calories each day.
4Health's Mature Adult Formula is designed for less active senior dogs. It's a lamb-based formula with 20% protein and 10% fat. That's about 5% lower than the levels of protein in both their other formulas.
The Mature Adult Formula is also a good fit for dogs of any age who suffer from sensitive stomachs or other digestive issues.
Helps Keep Dogs Active
Does your dog never sit still? Younger dogs with high energy burn through calories quickly. Their food needs lots of protein to provide extra energy.
4Health Chicken and Vegetable Formula has a protein content of 26% and a fat content of 15%. That's higher than many similar brands. It's well-suited for active dogs, including working dogs. However, make sure your dog is energetic; otherwise, the high-fat content can result in undesirable weight gain.
Two Weight Loss Options
Is your pooch packing on some extra pounds? Obesity can cause a variety of health and mobility problems. Aside from increasing your dog's activity levels, you'll also want to change his diet. 4Health offers two options toward this purpose:
Healthy Weight formula
Special Care Weight Management formula
Last update on 2023-09-18 / Affiliate links / Images from Amazon Product Advertising API
Both formulas have a reduced calorie count while still providing all necessary vitamins, minerals, and nutrients.
The Healthy Weight formula is ideal for moderate weight loss, while the grain-free Special Care Formula is recommended for severe obesity. Both types of food include feeding guidelines and dietary advice.
Keep in mind that if you have an overweight dog, you'll also want to discuss a weight loss plan with your vet.
Packed with Protein and Nutrients
Real chicken or lamb is the main ingredient – and that's great news. Dogs are carnivores, which means they need a primarily meat-based diet. Lean meat protein provides valuable amino acids and other needed nutrients. It helps heal damaged tissue while keeping skin and hair soft and shiny.
Additionally, each formula has Omega-6 and Omega-3 fatty acids, which help maintain coat fullness and overall health. Choose food with Omega fatty acids if your dog's coat is thinning or patchy.
Finally, there's a lot to like about what's not in the list of ingredients. All 4Health formulas are 100% grain-free. They have no corn, wheat, or soy.
Grains often act as nothing more than filler in foods. Plus, they're also common allergens. Grain-free foods are easier for dogs to digest than a product made with lots of fillers. They're also more nutrient-dense.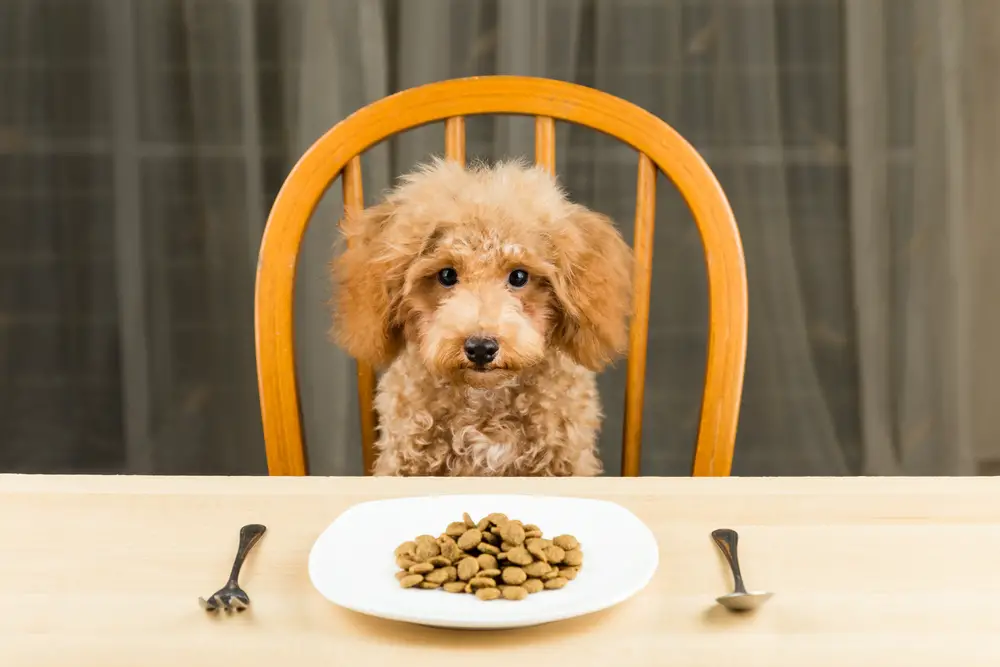 Locally Sourced and Expertly Made
As mentioned above, the quality of the ingredients has the biggest impact on the overall health of the food. 4Health excels at superior sourcing. If knowing where each ingredient originates from is important to you, you'll love 4Health's commitment to keeping you informed.
The Tractor Supply Company oversees every aspect of sourcing. Proteins are raised locally, using no hormones or antibiotics. Produce is also sourced locally and grown using a water purification process. Nutrition experts create all formulas.
Social Proof
As we mentioned above, 4Health isn't the most popular dog food brand. The Tractor Supply Company has had difficulty separating the dog food from the larger farm supply business. There are very few reviews posted online, and what's out there is overwhelmingly negative … but there's a likely reason for this.
First of all, there are almost no online reviews overall. Considering the Tractor Supply Company has no reason to make dog food if it's not selling well because they're such a large company, we tend to think most 4Health customers have a positive impression of the brand. Only the small group of dissatisfied customers seem inclined to post reviews.
Many people felt the brand was too expensive.
Tractor Supply Company customers didn't seem to appreciate the vast price difference between buying online versus purchasing the product offline. Ordering four pounds of food online costs about the same as buying 25 pounds of the same food in the store.
The cost difference is easily the most common complaint. If you live near a Tractor Supply Company retail location, however, you can save big compared to ordering online.
It's important to note that the volume of complaints is low. Most of them focus on the price while almost everyone agrees the quality of the food is high.
Alternatives
4Health uses a carefully-balanced blend of ingredients to create a one-of-a-kind formula. However, 4Health isn't the right choice for every dog. If you opt against trying out the 4Health brand, here are three brands similar to 4Health that come with their own different value propositions:
Orijen Dog Food
Victor Dog Food
Kirkland Dog Food
Orijen Dog Food
4Health is carefully balanced to meet your dog's nutritional needs with a total protein content of 20%. However, you might want more. If you're looking for dog food with a higher meat content than 4Health, consider Orijen. It has a meat content of 85%, which is about three times more than most dog food brands offer.
This can be a good choice for extremely active dogs. Keep in mind that the size of the dogs doesn't have to be the main factor here, as several large dogs are quite lazy and don't exercise as much as relatively smaller dogs who're on their feet all day. For example, a pitbull might need to burn off a lot more food than an English Terrier would.
Orijen food is Biologically Appropriate. This means that it mimics the proteins dogs eat naturally in the wild. They locally source free-range poultry, nest-laid eggs, wild fish, ranch-raised meats, and other fresh ingredients. A unique freeze-drying process seals in nutrients, so the food arrives fresh on store shelves.
A wide variety of protein-rich, grain-free foods

that will appeal to your dog's taste

Multiple options between chicken, turkey, lamb, and fish for a wide range of meat options

CORE formula aids digestion,

resulting in better overall long term health
If you're looking for another dog food committed to fresh, nutritious ingredients, check out Orijen dog food here.
Victor Dog Food
Most 4Health foods have chicken as the main protein, although they also offer varieties with turkey, lamb, and fish. Victor Dog Food also offers a similar line of grain-free foods. It's a good alternative if you like the benefits of 4Health, but your dog doesn't like the taste.
Victor Dog Food recipes have a unique blend of probiotics and minerals called the CORE formula. It boosts the digestive system to allow for more efficient nutrient absorption. Switch to Victor if 4Health food gives your dog diarrhea, nausea, or other gastrointestinal issues.
A wide variety of protein-rich, grain-free foods
CORE formula aids digestion
If 4Health seems to upset your dog's digestive system, consider switching to Victor Dog Food here.
Kirkland Dog Food
The number one complaint about 4Health is the price, especially for customers who can only buy it online. If you're looking for a nutritious dog food that is easier on the wallet, consider Kirkland Dog Food.
Kirkland is Costco's in-house brand of food. It's made from all-natural ingredients including real chicken, fresh eggs, and rice. Although the formula is different than 4Health, it still provides balanced nutrition to protect your dog's joints, coat, and overall health.
The taste might not be as appealing to your dog as 4Health products, but there are certain compromises that you need to make when you're going for a slightly less expensive option. 
When it comes to nutrition, a lot of dog foods promote the use of "meat byproducts," which can be unhealthy for your dog. The main ingredient in the Kirkland formula is chicken, which provides your dog with all the nutrients he needs and also comes in a taste that he would enjoy.
Plus, it's affordable. You don't even need to be a Costco member to save big. It's a good choice for anyone on a budget, including households with multiple dogs.
An affordable, budget-friendly option
The main ingredient is chicken
Formulated for dogs in all life cycles
If 4Health's price tag is a bit too rich for your family finances, check out Kirkland Signature dog food here for a more affordable option.
Conclusion
It's a shame 4Health dog food isn't more well-known, because a few negative reviews are likely scaring off many potential customers needlessly. However, negative reviews are a part of every product, no matter how good, and you shouldn't let these reviews affect your image of the brand.
4Health and the Tractor Supply Company clearly know dog food. They understand dogs' unique nutritional needs, and they know how to work with suppliers to obtain only the freshest, most wholesome meats and veggies.
Unless you buy a lot of farm equipment, you probably haven't heard of 4Health. But your dog doesn't care how popular his food is. He'll love the natural meaty flavors, and you'll love the healthy recipe and ingredients! 
If your dog is extremely picky about what he eats, the flavors and taste of 4Health Dog Food will definitely help him overcome his issues!
We hope that this article has helped you make an informed decision about which dog foods you should buy for your furry friend. 4Health might not be the perfect dog food for your needs, but it is certainly better in taste, nutrition, and value for money than a lot of its competitors on the market. 
If you're a dog owner and you need to learn more about dog behaviors and nutrition, feel free to check out some of the other articles on our website, as well!
If 4Health sounds like the right choice for your dog, take a look here:
Last update on 2023-09-18 / Affiliate links / Images from Amazon Product Advertising API